http://a2d-architecture.com/
photo thanks to : designindex
It must be every designer's dream to one day design a chair that becomes an icon. Or better still, design a chair and a lamp that become icons. Well, there's one Italian designer who did just that, and much more, such were the quality and brilliance of his designs.
Vico Magistretti graduated from Milano Politecnico in 1945 and proceeded to build a prominent career as an architect. But alongside his architecture he began designing objects for interiors, and by the late 1950s his designs were being seriously looked at by companies like Cassina, who in 1962 started producing his first important chair, the Carimate.
But it was his next chair that became special not only for the design world, but also for my family. In 1967 Magistretti created history by designing the world's first one-piece plastic chair, the Selene, and this Artemide-manufactured chair, all white, bright and incredibly cool, came into our lives soon after. Now, all these years later, it's still with us, looking a little crazed and jaundiced, but continuing to delight. What a chair; a true icon.
And so to his iconic lamp. The coolest design ever. Never has a design object given me as much pleasure as Magistretti's fabulous Atollo lamp for Oluce, and my pleasure is doubled, because we've two of them. Designed in 1977, they became an instant classic. A dome atop a cone, atop a cylinder; pure geometry in white Murano glass. A design that could be placed into almost any setting. Design at its most brilliant best.
There were other important designs, like his innovative Maralunga sofa for Cassina in 1973, and beautifully simple Shigeto cupboard for De Padova in 1988, but it is his two icons, his Selene chair and Atollo lamp, for which he will always be remembered.
by Richard Woollen, guest author
Selene Chair
photo thanks to : okayart
Atollo Lamp
photo thanks to : allmodern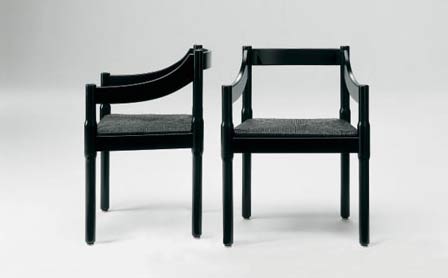 Carimate Chair
photo thanks to : architonic
Maralunga Sofa
photo thanks to : retrotogo