http://a2d-architecture.com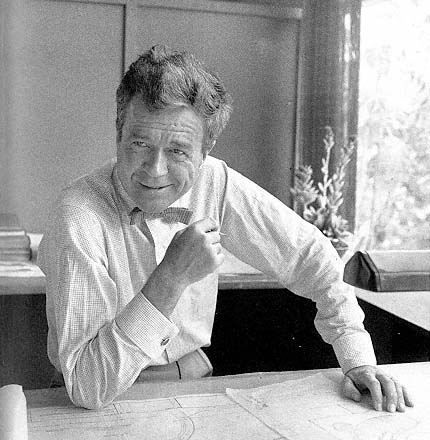 Just as good paintings need good frames, cool architecture needs cool landscaping, and none more so than Californian mid-century modern architecture, with it's emphasis upon connecting inside with outside spaces.
Architectural landscaping played a crucial role in the appreciation and enjoyment of these sun-drenched, modern spaces, therefore much collaboration took place between architects and landscape architects to create their ideal.
Of the many landscape architects of the period one name, Garrett Eckbo, shone out. Eckbo had balked against the old fashioned curriculum he'd studied at both Berkeley and Harvard, much preferring to sit in on Walter Gropius's architecture lectures at Harvard (with their Bauhaus influence) and garner the modernist tenets that were to form the basis for his work.
He was a man with a social conscience, thus his first paid work was for the government, designing farm workers' camps. That social conscience then brought him into contact with Gregory Ain, an architect whose political beliefs very much resonated with Eckbo, resulting in collaborations on several housing projects such as Park Planned Homes in Altadena.
So why was Eckbo so important to mcm architects? I think it had as much to do with his understanding and appreciation of the structures they designed as it did with the wonderful art-inspired landscaping he created around them. At the time of his modernist awakening with Gropius, Eckbo discovered Moholy-Nagy, Malevich, Kandinsky and other abstractionists. These artists offered forms and structures for his work that gelled perfectly with the cool, modernist designs of Ain and others.
As testament to this important landscape architect's career, a list of his projects and the architects with whom he collaborated is all that is required. It's long, containing so many projects and names from what history has shown to be a preeminent architectural period.
by Richard Woollen, guest author
Eckbo Residence, Alcoa Forest Garden.