http://a2d-architecture.com/
For me Catalunya has become a bit of a modern architecture and design mecca.
I think it's generally accepted that when it comes to these arts, Germany would be the first European country that comes to most people's minds. But as much as I love the German approach to architecture and design, down on the Mediterranean, to my eternal joy, they've come to handle them in a unique, heterogeneous way.
The Catalunyans, passionately independent people that they are, have always brought their own unique approach to aesthetics, from the inimitable Dali and Miro, to the towering Gaudi. But today it's a far more measured, sophisticated Barcelona and Catalunya that faces the world, making its presence felt with some of the most accomplished architecture and design one can find.
If I was pushed to pick one architectural practice and one design studio that exemplify what I'm talking about, they would be RCR Arquitectes, based in Olot, a town in the foothills of the Pyrenees, 90 km north of Barcelona, and Liavore Altherr Molina, based in Barcelona itself.
RCR, Rafael Aranda, Carme Pigem, and Ramon Vilalta, are internationally recognised architects, all three recipients of honorary fellowships by the American Institute of Architects, for wonderfully varied work which ranges from wineries, through libraries, to a house for a carpenter (some chippy!). Their work rewards intensive architectural scrutiny.
Liavore Altherr Molina, by contrast, are wider known, having won a much-deserved place in the design world, principally with their chairs. And of the many great designs they've produced, I'd have to pick their Catifa chair. But when it comes to their lamps, for me there is only one; one that is right up there with Magistretti's Atollo. Their ESA lamp is a timeless stunner, in aluminium/glass. Tomorrow's icon.
So that's Catalunya. So cool . . .
by Richard Woollen, guest author
Library and Elderly People's Centre, Barcelona, Spain by RCR Arquitectes (2007)
photos thanks to : afasia
Les Cols Restaurant, Olot, Girona, Spain by RCR Arquitectes (2006)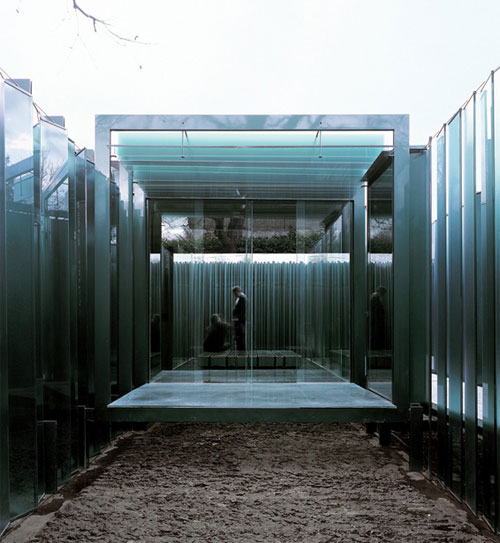 Pavilions in Les Cols Restaurant (2006)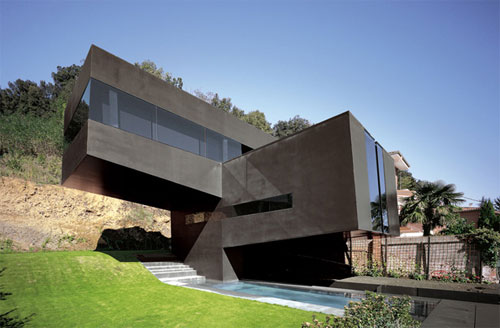 House for a Carpenter, Olot, Girona, Spain by RCR Arquitectes (2007)
photos thanks to : ElCroquis
Catifa Chair by Lievore Altherr Molina
photo thanks to : Arper
Foscarini Esa 07 Table Lamp by Lievore Altherr Molina
photo thanks to : AllModern